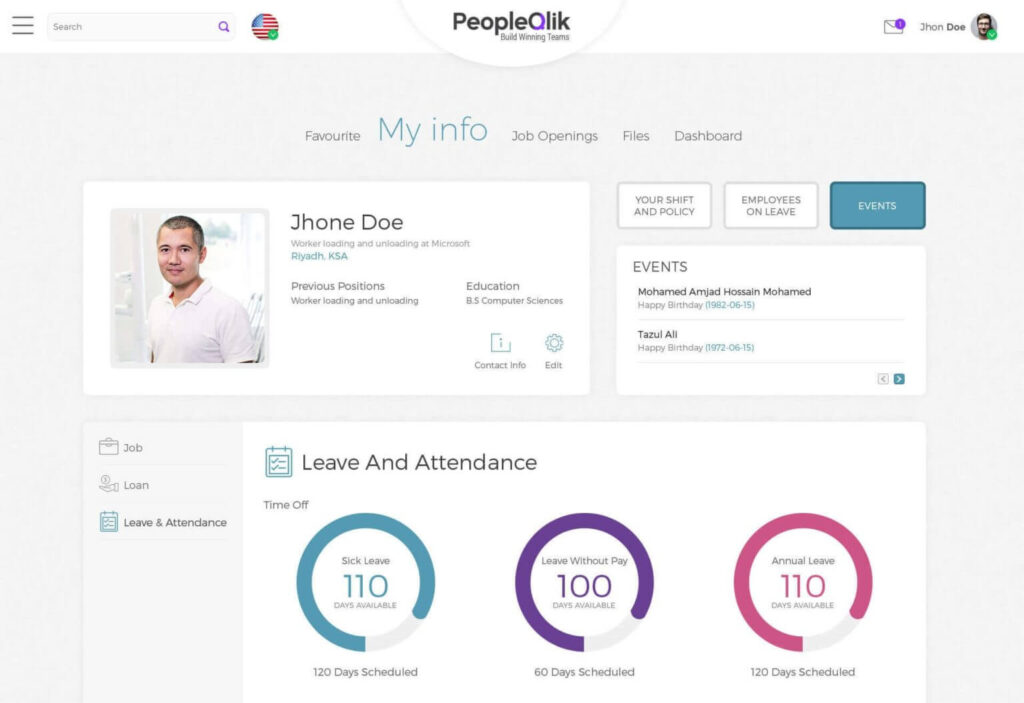 Why You Need of Cloud HR Software in Saudi Arabia for Payroll Management
PeopleQlik#1 HR Software in Saudi Arabia is extremely necessary for your business in this era of cutthroat economy where most businesses struggle to keep pace with the fast paced competitive markets. Employees who are going to your organization. Work with devotion and attention, they have no doubt in your valuable possession. How can you keep them motivated and satisfied? The answer is very simple. Keep paying them and do your best. Cloud HR software for you to do this. Now you can easily view all salary management effectively.
PeopleQlik#1 HR Software in Saudi Arabia 
The question arises why the payroll management system is needed?
The answer is straightforward, avoiding some common mistakes while calculating the salaries of employees.
Payroll Software in Saudi Arabia helps employees keep track of hours, noting the start and end times of each day. That way, you'll be able to justify their salaries. It is difficult to keep a record manually every day. The world is moving at a fast pace and you need to keep up with that pace. Get rid of files and other documents and start using the HR management system to handle HR better.
Manual work also eliminates the risks associated with errors and errors. The software intelligently detects any unusual entries. Working has never been easier. You need to type the Employee ID into the Software tab and all the recipient details will be displayed on your computer screen. It also helps you figure out how much you pay in the name of salaries, which can be useful during legal investigations and tax rules.
Calculate overtime payment
Attendance software in Saudi Arabia systems, an important feature of these HR software, allow you to estimate the number of hours an employee is working on a weekday. If he has worked overtime, you will pay him compensation or he will feel bad and it will affect your company's performance.
You certainly don't want that to happen. Therefore, cloud technology in HR software enables you to deal with the situation effectively.
You can use integrated accounting to avoid any errors during the calculation. Software easily detects errors. Now submit salaries directly to payroll accounts to avoid future tax irregularities. Everything is on the record that can be helpful during any kind of audit activity.
Security is high level. Everything is being protected for any kind of security breach. There is no compromise on accuracy and precision. The whole process is fault-free.
The result calls for a powerful decision and the features offered by HR software for pay management are doing justice to the hype created by these cloud technologies. Try it out and you will definitely be satisfied with the quality of the benefits. Make your life easier and start using HR software for your organizations.
Here you can see the success story of PeopleQlik. AkzoNobel switched from SAP to Bilytica's leading product PeopleQlik to automate the core HR & payroll for AkzoNobel group level HR operations (Formerly ICI). PeopleQlik is an ideal choice is an ideal choice for Group of companies who are looking functionally rich.
Contact PeopleQlik when your workplace requires a suitable time assistance machine or software that can actively keep up with employee records. They have several options depending on the functionalities you need. Go ahead and check them out.

HR Solution in Saudi Arabia
payroll Software in Saudi Arabia
Payroll Management in Saudi Arabia
Performance Management Software in Saudi Arabia
Leave Management Software in Saudi Arabia