Cloudpital # 1 is one of the top hospital management system  Hospital management systems play a pivotal role in enhancing patient care, streamlining administrative tasks, and improving overall operational efficiency. These systems encompass a range of functions, from electronic health records (EHRs) to billing and inventory management. However, for these systems to reach their full potential, interoperability is the key. 

Cloudpital #1 hospital management system
In this blog post, we will delve into the significance of interoperability and how it impacts hospital management systems.
Defining Interoperability
Interoperability refers to the ability of different healthcare information systems and software applications to communicate, exchange data, and use the information that has been shared in a meaningful way. hospital management system In essence, it's about breaking down the data silos that often exist in healthcare, enabling seamless data exchange among various healthcare stakeholders, including hospitals, clinics, laboratories, and pharmacies.
Enhanced Patient Care
One of the most profound impacts of interoperability on hospital management systems is the enhancement of patient care. When various components of a healthcare system can share patient information effortlessly, it leads to improved clinical decision-making. For instance, a patient's medical history, test results, and medication records can be accessed promptly by different departments and healthcare providers. This streamlined access to critical patient data can lead to faster diagnoses, better treatment planning, and ultimately, improved patient outcomes.
Streamlined Administrative Tasks
Hospital management systems handle a wide range of administrative tasks, from appointment scheduling to billing and insurance claims processing. Interoperability simplifies these processes by facilitating data exchange between different systems. For example, when a patient's insurance information is seamlessly integrated into the billing system, it reduces errors and speeds up the reimbursement process. Moreover, appointment scheduling becomes more efficient when the EHR system can automatically update the scheduling software with patient information.
Efficient Resource Allocation
Interoperability also plays a vital role in optimizing resource allocation within hospitals. hospital management system When different departments and units can share data on patient admissions, discharges, and transfers in real time, it allows for better bed management. Hospitals can efficiently allocate resources, such as beds and staff, based on the current patient load, reducing wait times and improving overall patient satisfaction.
Cost Reduction
The implementation of interoperable hospital management systems can lead to significant cost reductions. By streamlining administrative processes, reducing duplicate tests, and improving resource allocation, hospitals can operate more efficiently. Additionally, interoperability can reduce the need for paper records and manual data entry, saving both time and resources. Over time, these cost savings can have a substantial impact on a hospital's budget.
Patient Engagement
Interoperability doesn't just benefit healthcare providers; it also empowers patients. Hospital software Patients can access their own medical records and test results through patient portals, increasing their engagement in their own care. This access to information fosters transparency and allows patients to be more actively involved in decision-making regarding their health.
Challenges and Barriers
While interoperability offers numerous benefits, there are challenges and barriers to achieving it fully. These include issues related to data privacy and security, standardization of data formats and protocols, and the cost of implementing interoperable systems. However, as healthcare organizations recognize the value of interoperability, efforts are being made to address these challenges and create a more connected healthcare ecosystem.
Interoperability is a game-changer for hospital management systems. It enhances patient care, streamlines administrative tasks, optimizes resource allocation, improves communication, reduces costs, empowers patients, and ultimately leads to better healthcare outcomes. As the healthcare industry continues to evolve, interoperability will remain a critical element in achieving the goal of delivering high-quality, efficient, and patient-centered care. clinic Software Hospitals and healthcare organizations must continue to invest in interoperable systems and work together to overcome the challenges in their path to reap the full benefits of this transformative technology.
Detailed features: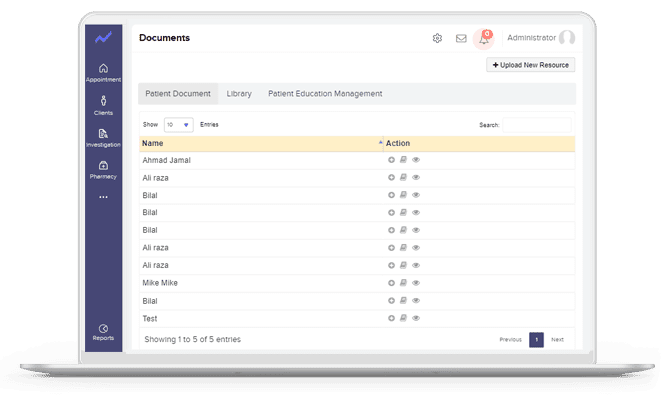 EHR Documents
For complete, accurate, and up-to-date information availability, capture, scan, and attach paper charts, clinical pictures, photographs, x-rays, audio files, and medical drawings into the electronic chart or through an integrated PACS system.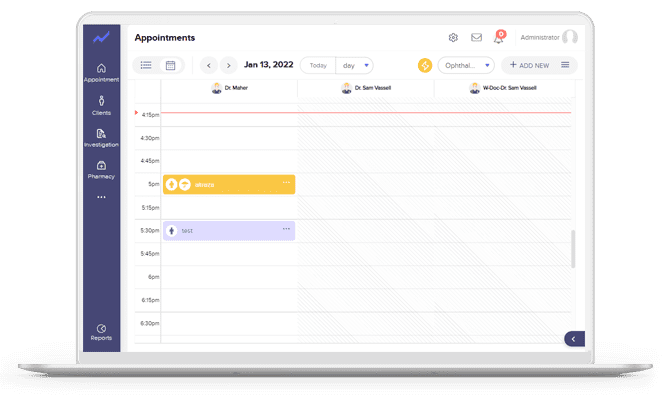 EHR Insurance
Your team will be busy updating patient records and educating patients about potential changes in their insurance plans. Our eligibility verification tool will decrease their workload in half, as well as your phone bill. No more calling insurance companies to verify patient eligibility; our technology accomplishes it for you in seconds, even before the patient arrives.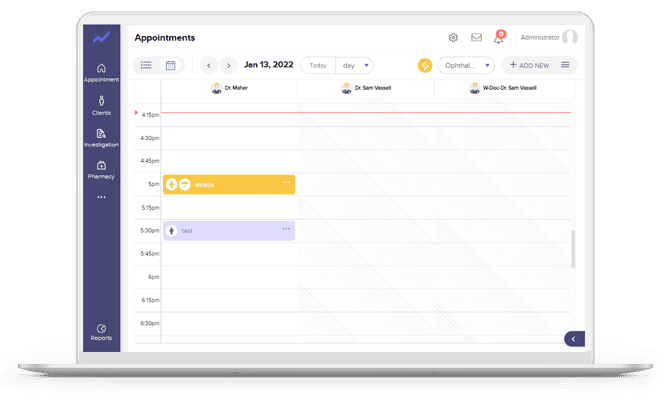 Innovative EHR For A Workflow That Just Works
On a single clutter-free screen, schedule and manage resources for various providers, locations, and days. Advanced features that improve efficiency and service quality include recurring appointments, direct eligibility checks, and administrative notifications.

hospital management system
hospital management system
hospital management system
hospital management system
How does interoperability impact hospital management system? similar software solutions prices were updated on 2023-11-29T09:43:25+00:00  in Saudi Arabia in Mecca, Medina, Riyadh, Khamis Mushait, Yanbu, Jeddah, Dammam, Unaizah, Uqair, Ha'il, Ta if, Al Bahah, Dhahran, King Abdullah Economic City, Najran, Diriyah, Qatif, Khafji, Jubail, Abqaiq, List of Cities and Towns in Saudi Arabia, Ras Tanura, Turubah, Jazan Economic City, Knowledge Economic City, Medina, Khobar, Abha, Tabuk, Saudi Arabia,




similar software solutions prices were updated on 2023-11-29T09:43:25+00:00  We also provide in Saudi Arabia services solutions company in Hafar Al-Batin, Udhailiyah, Al-Awamiyah, Hofuf, Hautat Sudair, Buraidah, Tayma, Duba, 'uyayna, Saihat, Al-Kharj, Al-ula, Jizan, Rumailah, Ar Rass, Arar, Shaybah, Al Majma'ah, Rabigh, Dhurma, Haradh, List of Saudi Cities by Gdp Per Capita, Badr, Sudair Industrial City, Baljurashi, Shaqraa, Al-Khutt, Habala, Ad Dawadimi, Dawadmi, Layla, similar software solutions prices were updated on 2023-11-29T09:43:25+00:00  Price is SAR 100 and this was updated on updated on 2023-11-29T09:43:25+00:00

similar How does interoperability impact hospital management system? software solutions prices were updated on 2023-11-29T09:43:25+00:00  in Saudi Arabia in Haql, Afif, Al-Abwa, Farasan, Al-Jaroudiya, Thadig, Al-Thuqbah, Al Wajh, Almardmah, Al-Zilfi, Muzahmiyya, Prince Abdul Aziz Bin Mousaed Economic City, Tharmada'a, Skaka, Um Al-Sahek, Sharurah, Tanomah, Bisha, Dahaban, Al Qunfudhah, Qurayyat, Saudi Arabia, Ha'ir, as Sulayyil, Al Lith, Turaif, Al-Gway'iyyah, Samtah, Wadi Ad-Dawasir, Az Zaimah, Safwa City, Jalajil, Harmah, Mastoorah, Hotat Bani Tamim, Jabal Umm Al Ru'us, Rafha, Qaisumah, Al-Ghat, Hajrah, Al-Hareeq. Excerpt: Jeddah (also spelled Jiddah, Jidda, or Jedda; Arabic: Jidda) is a Saudi Arabian city located on the coast of the Red Sea and is the major urban center of western Saudi Arabia similar software solutions prices were updated on 2023-11-29T09:43:25+00:00  Price is SAR 100 and this was updated on updated on 2023-11-29T09:43:25+00:00
15-09-2023