It is essential to invest in front-end

development services

. High-quality UI and UX are now the norm. Only the most flawless user interactions will provide you with the competitive advantage you require to stay ahead of your competitors.

Front-end Development Technologies
Bilytica's front-end development services make use of cutting-edge technologies to deliver perfect client-facing programming.
We're currently utilizing cutting-edge technology, such as:

Helps in the creation of interactive user interfaces that respond perfectly when data changes.

Provides an easy and user-friendly framework for developing user interfaces.

Allows our development teams to design applications using web app technologies.

Facilitates the creation of mobile and web applications with cross-platform code.

These technologies are necessary for smooth front-end development.
Their value cannot be emphasized.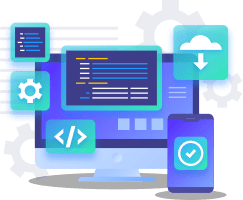 Even while your back-end development will handle the bulk of the work, it won't mean much if your front-end solution is subpar. Our teams at Bilytica work hard to make sure your website or online service stands out in a crowded market because our developers are aware of this dynamic.

Bilytica Front End Development Services
An experienced Bilytica front end developer will offer a wide range of services, all of which concentrate
on four essential components, to give you just what you need.

Responsive Website Design
Responsive web design assures that no matter what device visitors use, your site will adapt to fit their screen size without the need to maintain various versions of it.

UI/UX Design Services
In our development process, user interface (UI) and user experience (UX) play a significant role. There are some significant contrasts between these two disciplines, despite the fact that they work together to give your visitors the best possible experience.

Interactive user interfaces for web applications
Interactive user interfaces can add interest and involvement to your website, encouraging visitors to stay and interact with it for extended periods of time. These components could also be dangerous, though.

Mobile Applications
Mobile phones are now owned and used by 97% of Americans. It is more crucial than ever to invest in smart, flawless mobile app development. Any good front-end developer will take this dynamic into account and create a mobile app that gives users everything they need to access on the go.
Benefits of Working with Bilytica
for Front-end Development
While there are many solutions available to you, Bilytica provides high-quality front-end development
services with definite advantages. Custom software development, backend development,
mobile app development, and more are additional services.
Dedicated and Experienced Teams
You can anticipate senior experts from Bilytica:
🧑‍💻Developers, 🧑‍🎨 Designers, 👩🏽‍💼Project managers
These teams are not just industry leaders, but they are also adept at cooperating. You can take advantage of this synergy when working with us.
Streamlined Development Process
Each iteration of your project will be managed using agile project management, which will keep you informed and provide helpful feedback.
Transparent Billing
There won't ever be any unpleasant surprises when it comes to your bills. Acknowledge the charges, including what you are paying for and why.
Constant Discussion and Extensive Reporting
You'll have all the information you need to keep your finger on the pulse of your project from the moment we first connect to the moment we deliver exactly what you need.
Ready for More?
We at Bilytica will give you everything that you need to get going.
To request a quote for our front end development services right away, please review one of our Case studies.